How to Spot Foundation Problems
7/23/2018 (Permalink)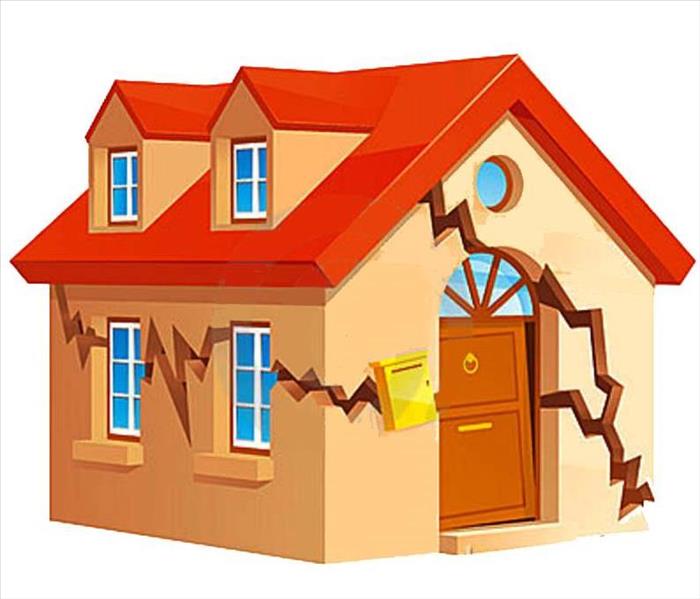 Homeowners often wonder how to identify the different signs of foundation problems. It certainly tops the list of potentially expensive home repairs, and for good reason. The average cost of foundation repairs can be between $5,000 and $7,000 and can potentially climb even higher if the problems damage other parts of your home. Identifying foundation problems early is an important part of preventative home maintenance.
Finding cracks in walls, floors and ceilings is crucial when assessing potential foundation damage. But just because you can't see a crack doesn't mean one isn't there – or that it isn't coming. Paranoid yet? Time to put your mind at ease. Here are a few ways to check your home for signs of foundation problems.
Test door and windows- If you are noticing a few of your windows and doors getting tougher to close, it could be a sign of foundation problems. Shifting in an unstable foundation can distort the shape of the frames, making the doors and windows unable to latch and eventually jam entirely.
Saggy Floors and Ceilings- Warped floors and ceilings and be a warning sign of foundation problems. As the foundation moves, it can pull apart or compact walls and support beams. This can cause the weight of the house to sit unevenly in certain spots. An indicating sign is a slanted floor. If you notice a continual change in one direction, it may be time to call a professional.
Inspect Sources of mold- Reappearing mold in the corners of windows and walls and means that's moisture is accumulating in your home. Check mold-prone areas to rule out any foundation-related cracks and gaps that could be letting in water.
Check gaps between exterior windows and walls- If you notice gaps between your front door and façade, it could mean that the foundation of your home is shifting, causing the two to pull apart. These gaps can allow water and insects like termites into the walls of your home, resulting in even more structural damage in the long run.
Pay close mind to your chimney- If your chimney shifts dramatically, it can collapse entirely, posing a serious threat to your family and your property.
Investigate cracked walls or floors- The easiest signs of foundation problems are cracks in the walls and floors of your home. Not all cracks are related to foundation issues. Small cracks near a window or door frame can typically be caused by normal seasonal expansion of the drywall and underlying wood. Do be alarmed when you see cracks that are more than one-eighth of an inch wide. Cracks that are wide on one end and narrow on the other, horizontal or at a 45-degree angle, leaking water, or stair step cracks on walls can be a sign of foundation problems.
Reference: Schroer, Emily (2018, May 17). 9 Ways to Spot Serious Home Foundation Problems